Empowering Ride-Sharing with Seamless Connectivity
1. Introduction
Limo is a revolutionary ride-sharing platform that aims to transform the way people commute by offering a user-friendly mobile app for both riders and drivers. This innovative platform provides a seamless and convenient experience for users seeking efficient transportation solutions. Limo's mobile apps for riders and drivers enable easy trip requests, route navigation, fare calculation, and secure payments, while the admin panel ensures efficient management of the platform.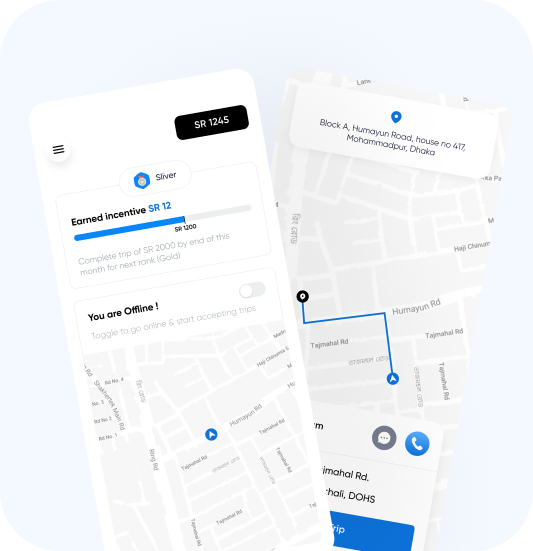 2. Background
With the rise of urbanization and the need for efficient transportation, ride-sharing apps have gained immense popularity. However, Limo seeks to go beyond the conventional ride-sharing model and create an all-inclusive platform that prioritizes both the riders' and drivers' experiences. By incorporating smart navigation, incentivizing drivers, and streamlining the administrative processes, Limo aims to set new standards in the ride-sharing industry.
3. Key Features
3.1. Rider Mobile App: Limo's rider app offers a simple and intuitive interface for users to submit trip requests. Once a request is made, the app automatically alerts nearby drivers, enabling quick pickups and efficient ride allocations. The app also calculates the fare and securely processes payments through the rider's preferred payment method.
3.2. Driver Mobile App: The driver app empowers drivers to take control of their earnings and work schedule. With a tap of a button, drivers can indicate their availability by going online, giving them the flexibility to choose when and where they want to drive. The app provides access to real-time earnings tracking, identifies profitable hotspots for better business, and offers turn-by-turn navigation to optimize routes.
3.3. Incentive Program: To encourage driver engagement and ensure sufficient availability, Limo implements an incentive program. Drivers receive additional incentives for every hour they drive beyond the minimum daily driving hours, motivating them to stay active on the platform and cater to passenger demands.
3.4. Efficient Admin Panel: The system admin utilizes an admin panel to manage all aspects of the platform. The admin panel empowers the administrators to oversee ride requests, driver activities, incentives, and resolves any issues that may arise during the operations. This centralized control ensures smooth functioning and data security.
4. User Experience and Benefits
4.1. Seamless Connectivity: Limo's mobile apps for both riders and drivers ensure seamless connectivity, enabling swift trip requests and instant driver allocation, enhancing the overall user experience.
4.2. Empowered Drivers: The driver app empowers drivers with insights into their earnings, hotspots, and efficient navigation, allowing them to maximize their income and enhance customer satisfaction.
4.3. Rider Convenience: Riders benefit from hassle-free trip requests, automated fare calculation, and secure payments, providing a convenient and reliable transportation experience.
4.4. Incentives and Motivation: The incentive program encourages drivers to stay engaged and active on the platform, promoting a consistent pool of available drivers and reducing wait times for riders.
5. Conclusion
Limo's innovative approach to ride-sharing presents a comprehensive solution for modern commuters seeking efficient and reliable transportation options. By integrating smart mobile apps for both riders and drivers, along with an effective incentive program and an efficient admin panel, Limo not only caters to the needs of its users but also enhances earning potential and job satisfaction for drivers. This case study showcases Limo's commitment to revolutionizing the ride-sharing industry with its user-centric approach and forward-thinking technology, setting a new standard for convenience and connectivity in urban transportation.
More case study
Discover How We Drive Results for Our Clients: Our case studies showcase the innovative solutions we've developed for clients from a variety of industries. See how we've helped businesses just like yours achieve their goals.